How much does estate planning cost in New Hampshire? Candice O'neil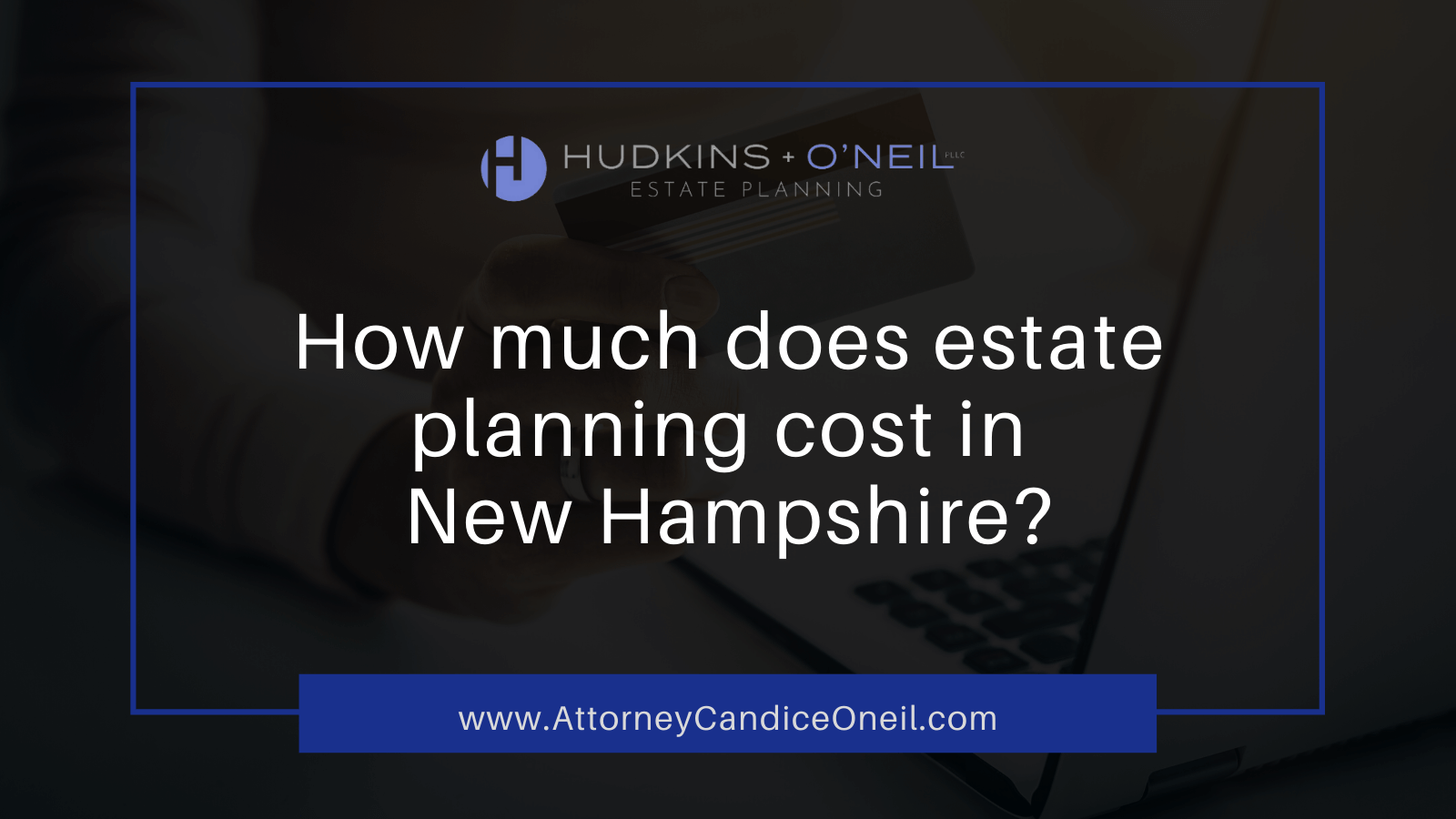 Deciding to go through with an estate plan is the first step towards making sure your family is taken care of after you've died, but many people are hesitant about estate planning. Some people believe that estate planning is just for the super wealthy – which is not true – while others worry the process will be expensive.
While estate planning does take time and money, putting together an estate plan is much less expensive than administering an estate without a plan in place (due to probate costs) after your death. And it's so important to have a plan in place for the unknown so that you can rest assured your assets will be handled properly after your death.
Today we're going to spend some time talking about what the costs of estate planning include, so that when you're ready to go through the process with an experienced attorney, you'll know what to expect.
What's included in the cost of estate planning?
It's difficult to predict exactly how much your estate plan will cost because this is not a one-size-fits-all type of process. The exact amount of fees you'll pay for your estate plan will depend on how complex your plan needs to be, where you're located, and your attorney's years of experience.
However, there are some basic elements we can examine to get a better sense of what all you'll be paying for.
Initial consultation
The first time you sit down with your attorney to discuss your assets and what you hope to achieve with your estate plan will probably cost you some money from the outset. (Some, like our team at Hudkins and O'Neil, do provide free initial consultations, however.)
How you'll pay
It's during this time, however, that you and your attorney should be able to determine how you will be paying for their services:
Flat fee: A flat fee is a set amount that is determined from the get-go. This is typically a type of bundle package with elements that will be discussed below.
Hourly rate: Typically when you think of attorneys you expect to be charged an hourly rate. As mentioned above, these rates will vary widely depending on a number of different factors.
Either way, be sure that your attorney provides you with a written fee agreement. You can ask as many questions as you want about the details of this agreement.
Elements of estate planning
While each estate plan is unique to the individual and their beneficiaries, there are some elements that most will include:
Will / trust – The main component of your estate plan that lays out what will happen to your assets and beneficiaries after your passing
Durable power of attorney – Allows you to give power to someone to make decisions on your behalf when you are incapacitated
Beneficiary designations – The person or persons who will receive your assets and property
Letter of intent – A document that explains everything in detail and sometimes even includes funeral directions, if you choose to include them
Healthcare power of attorney – Like a durable power of attorney, a healthcare power of attorney allows someone to make decisions in regards to your health if you are unable to do so
Guardianship designations – A guardian will help designate what to do with any minors included in your estate plan until a time at which they are old enough to make decisions themselves
What else can I expect?
A will is typically less expensive than a trust in terms of estate planning, but check out another one of our blog posts to learn how the two can differ greatly in the long-term.
If you own a business, you can expect your estate plan to be a little more complicated and a little more expensive than if your plan just includes assets and property.
Other important things to keep in mind
We stated this above, but we want to encourage you to remember that you can always ask your attorney questions or for more details. This is YOUR family and YOUR livelihood, and they should be willing to help you through every step of the process.
Some places like California and Florida allow your attorney to charge a certain percentage of the value of your estate, but that's not ideal. You could end up losing more money this way, even if it might look more promising on paper.
How Attorney Candice O'Neil can help
People often procrastinate on their estate plan because they don't want to pay to do it. But you have to remember that creating this plan to have in place for the future is the best way to help your family and beneficiaries in the long-run. Our team at Hudkins and O'Neil is happy to help you gain that peace of mind. Contact us today to set up your free initial consultation.